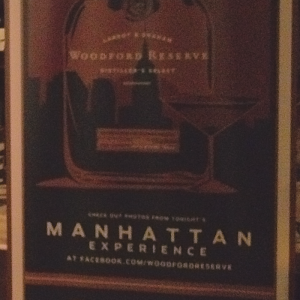 Yesterday I had the privilege of judging the first round of the Woodford Reserve Manhattan Experience in Lexington, KY held at Paulie's Toasted Barrel. Over 30 Kentucky mixologists entered the competition.
My fellow judges were Adam Hayes (Brown-Forman Whiskey Brand Champion), Seth Thompson and Justin Thompson (both of The Bourbon Review magazine).
The competition was divided into two rounds. Each of the judges met with 7 to 8 of the mixologists individually and sampled their creations. Each judge then picked one winner to move on to round two. During round two, each of the four finalists made their cocktail for all four judges. So we all tasted each of the four finalists and discussed to pick the ultimate winner.
It was interesting to me that the four of us judging initially dismissed cocktails that were either (a) not really manhattans or (b) didn't allow the flavor of the underlying spirit to come through. For (a), we all talked about it to make sure we were in line on where the line was between a manhattan and a bourbon cocktail in general. But (b), on the other hand, was completely reflexive. It wasn't until I reviewed the process that I realized how important it was that the cocktail additions (mixers) showcase the spirit used and not cover it up. This is one of the fundamental principles of the moden craft cocktail. Oh, and it can't be too sweet. Cloying cocktails upset me. 😉
Here's a sampling of my favorites:
---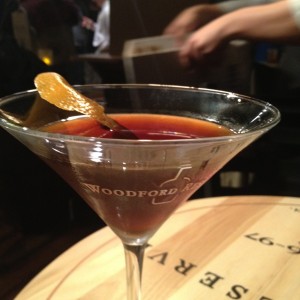 The Submersive Enemy by Chris George of St. Charles Exchange
Woodford Reserve, Averna, Fee's Barrel Aged Bitters, Cointreau, allspice
Wonderfully aromatic, lightly citrusy with balanced spices. An incredible manhattan that I would gladly order any time.
Interview with Chris and more of his cocktail recipes here.
---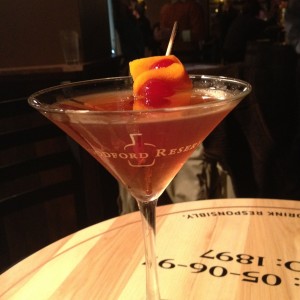 The Dexter Morgan (Blood Orange) by Joe Riggs of Against the Grain
Woodford Reserve, blood orange liqueur, sweet vermouth, bitters
A little heavy on the orange flavors but deliciously rich and silky. Well worth ordering. Minus a few points for using commercial maraschino cherries.
---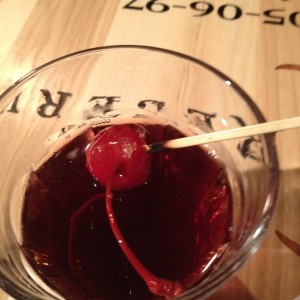 Midnight in Manhattan by Andy Friedrich of Bristol Bar & Grill
I completely failed to capture the ingredients for this one.  Obviously Woodford Reserve and bitters, and I think it was port, maybe, as the main mixer? Anyway, it was awesome. The cherry was rolled in sugar and brûlée–d. My favorite of the bunch and the one I selected to move on the second round. Go order it next time you're at Bristol.
---
Additional Woodford Reserve Manhattan Experiences around the country –
Woodford Reserve Manhattan Experience Milwaukee Style
http://www.wirtzbeveragegroup.com/wirtzbeveragewisconsin/?p=2377
Woodford Reserve Manhattan Experience Portland
http://www.examiner.com/article/manhattan-variations-brennan-spies-and-the-new-york-times